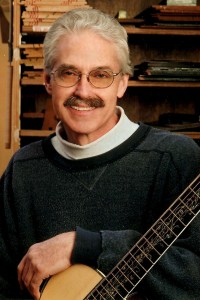 A life long interest in music, along with his background in furniture making and boat building, led Bill to open his own business building first class handmade guitars.
Bill has designed, built, and repaired guitars along with other stringed instruments, for 30 years.  He has produced an optimal sound with each instrument using the best quality wood available.
Tippin Guitars builds three original designs:  The Bravado, Crescendo, and Staccato, along with the more traditional OMT.  All guitars are custom made to suit the individual's playing style with a wide variety of options, ranging from the elegantly simple to the tastefully ornate.
"The learning process never ends; I will continue to learn from each guitar and strive to make each instrument the best it can be."  –  Bill
Shop Tour